Home » haarp » Lubbock Texas HAARP ring — produces storm within 48 hours
Tuesday, October 23, 2012
On October 20, 2012 — Lubbock Texas NEXRAD RADAR produced this frequency flash
viewable on back dated NEXRAD RADAR feed here:
http://vortex.plymouth.edu/gen_nids.cgi?
Seeing this pulse prompted the issuing of this alert for the possibility of severe weather coming directly to Lubbock — issued the alert on Facebook on Saturday Oct. 20, 2012 about 9am CDT:
Move forward 48 hours — the area under the frequency pulse has now produced very severe weather — THE ONLY area to be hit . The National Weather Service has now issued warnings for the area in question.
Notice the direction of the storms.. the ONLY storms to form in the area in the time allotted .. hail, damaging winds, and strong cell thunderstorms heading DIRECTLY INTO THE CENTER of the flash HAARP ring from 2 days prior: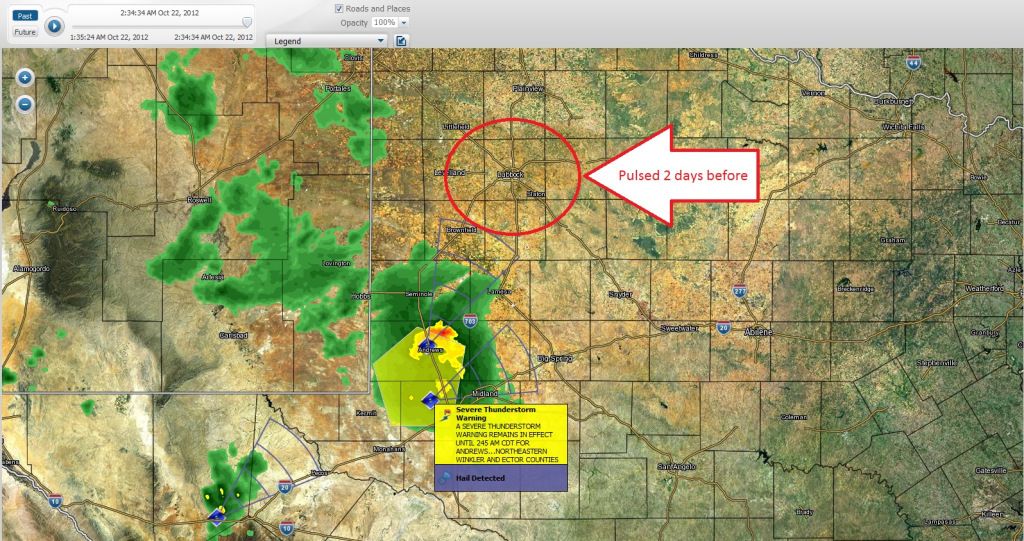 Here is what I think may be happening , what I think may be causing storms to be attracted to the RADAR pulses :
http://sincedutch.wordpress.com/2012/04/24/want-to-know-about-weather-modification-haarp-vlf-hf-and-chemtrails-want-to-prove-it-to-a-non-believer-here-you-go/
Past forecasts issued after seeing frequency pulses on RADAR: (HAARP rings , Scalar Squares)
http://sincedutch.wordpress.com/2012/01/28/1282012-skeptical-about-what-i-call-haarp-rings/
Source:
http://sincedutch.wordpress.com/
Subscribe to our Regular Email Updates!