Home » haarp » Change For Profit HAARP: Weather Modification, Seismic Events, Mood-Altering and More
Sunday, October 14, 2012
The High Frequency Active Auroral Research Program (
HAARP
) is an ionospheric research program jointly funded by the U.S. Air Force, the U.S. Navy, the University of Alaska, and the Defense Advanced Research Projects Agency (DARPA).
Built by BAE Advanced Technologies (BAEAT), its stated purpose is to analyze the ionosphere and investigate the potential for developing ionospheric enhancement technology for radio communications and surveillance. The HAARP program operates a major sub-arctic facility, named the HAARP Research Station, on an Air Force–owned site near
Gakona, Alaska
.
The most prominent instrument at the HAARP Station is the
Ionospheric Research Instrument
(IRI), a high-power radio frequency transmitter facility operating in the high frequency (HF) band. The IRI is used to temporarily excite a limited area of the ionosphere. Other instruments, such as a VHF and a UHF radar, a fluxgate magnetometer, a digisonde, and an induction magnetometer, are used to study the physical processes that occur in the excited region.
Initially construted in 1993. the current working ionospheric heater antenna array was completed in 2007 with significant increase in radiated power potential to a reported 1 gigawatt.
Today, the IRI at HAARP is only 1 of more than a dozen around the globe – however the Alaska project remains the most powerful and most dangerous on earth.
Possible Similar installations in the global HAARP network
here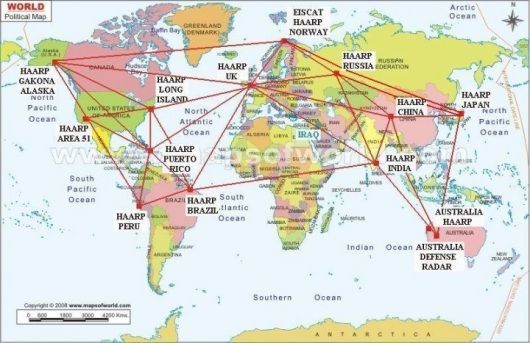 Source:
chemtrailsplanet.net
Subscribe to our Regular Email Updates!