Home » unhealthy food » 7 Breakfast Foods That Are Dangerous to Your Health
Wednesday, October 10, 2012
By:
Chriss Allen
Breakfast is the first and most important meal of your day. After you have fasted for several hours since your last meal, your body needs nutrients to fuel the energy of your cells and tissues. Despite many healthy food choices, some people choose to eat fast and unhealthy breakfast foods that are high in sugar, sodium, cholesterol and saturated and trans fats -- ingredients that are dangerous to your health. Consult your dietitian about a breakfast meal plan.
Warning
Consuming unhealthy breakfast foods may be dangerous for your health. Foods that are high in calories, sugar, sodium and unhealthy fats may increase your risk of metabolic syndrome, a cluster of risk factors that together increase your risk of obesity, diabetes, cardiovascular and cerebrovascular diseases. Breakfast foods served in fast food restaurants are especially high in calories and these unhealthy substances. Many states and cities have laws that require fast food restaurants to disclose content of their foods. Look at the ingredients of food labels and menus to determine the nutritional contents of the breakfast foods you eat.
These foods are among the most common breakfast items consumed in the United States.
Sugared Cereals
Many
cereals
contain refined grains that are sweetened with sugar. Although these cereals may taste good, they are high glycemic foods that can rapidly increase your blood
sugar
levels and soon lead to low blood sugar and more sugar cravings. Sugared cereals are especially dangerous and even life-threatening foods for diabetics. Many cereal packages tout health claims that make it appear as though a cereal is a healthy food. Cereals may have similar ingredients, but vastly different sugar content and calories. Read the cereal package labels to determine the ingredients, particularly added sugar content.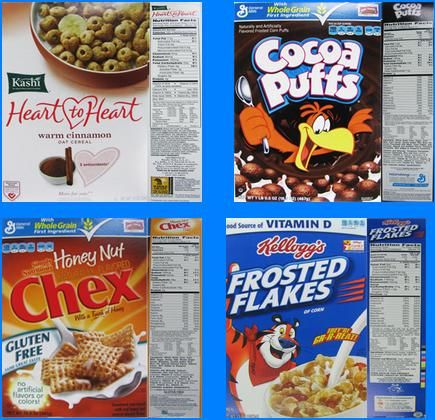 Doughnuts
Doughnuts contain refined grains with little fiber and added
sugar
, are usually fried in oil or with trans fats. The high calorie content of doughnuts can cause you to gain weight and the sugar content may turn to fat in your body. Trans fats are especially dangerous, and increase your risk of heart disease.
Pork
Pork features prominently in American breakfast dishes. Bacon, ham and sausage made from pork appear in breakfast sandwiches, omelettes, frittatas and quiches, and are commonly served as side items with eggs, pancakes and waffles. Although pork is an abundant source of protein for energy, breakfast meats made from pork are high in saturated fats. These fats may contribute to lipid blockages in your arteries and blood vessels, which can restrict blood flow and lead to heart disease. Consuming undercooked pork may also increase your risk of trichinosis, an illness that can cause fever, muscle pain and abdominal cramps.
Whole Eggs
Whole eggs are staples of breakfast fare in the United States. They are commonly fried, hard-boiled and scrambled as main entrees. They also appear in breakfast dishes such as quiche, frittatas, omelets and breakfast burritos. Like pork products, whole eggs are rich in protein for energy and cellular repair. However, these foods are also high in saturated fats and cholesterol. Frequent consumption of whole eggs may contribute to heart disease and stroke.
Refined Flours
Refined flours are processed grains, usually made from wheat, that have been stripped of their bran and germ -- these are the parts of wheat grains that contain dietary fiber. Refined flours, however, are simple carbohydrates that do not contain fiber. Refined carbohydrates may dramatically elevate blood glucose, which may increase diabetes risk and cause symptoms such as fatigue and loss of mental sharpness. Common breakfast items such as bagels, breakfast burritos, doughnuts and pastries are typically made with refined flours.
Yogurt
Yogurt in any form is a good source of calcium and vitamin D. But some brands have as much fat and sugar as a jelly-donut. Be sure you're only getting the good stuff by choosing plain, low-fat versions. Flavor them on your own with fruit and honey. And go Greek when you can. Plain Greek Yogurt offers twice as much protein and half the amount of carbs as the traditional type, Moskovitz says.
Fatty Meats and Cheese
Most fast food breakfasts are made with fat-laden biscuits and croissants, fatty bacon and sausage and full-fat cheese. Carl's Jr Breakfast Burger -- a hamburger with cheese, eggs and hash browns piled on -- has 830 calories, 47g of total fat, 15g of saturated fat and 1,580mg of sodium. Saturated fat is the main dietary cause of high LDL cholesterol and a cause of heart disease and stroke. The American Heart Association recommends limiting your saturated fat intake to 7 percent of your total calories each day, or 16g for a person on a 2,000-calorie-per-day diet.
Healthier Alternatives
Opt for lean meat products, such as turkey bacon and sausage, white meat chicken and fish instead of pork products in breakfast dishes. These meats offer a wealth of protein, and are lower in saturated fats than pork.
Use egg whites in omelets, quiches and frittatas. Egg whites are rich in protein, and do not contain cholesterol or saturated fats.
Substitute whole-grain tortillas, bagels and breads for refined flour versions. Whole-grain products are complex carbohydrates that may help you avoid fatigue and impaired mental function caused by consuming white flour products. They also offer dietary fiber, as well as B-vitamins, which are necessary for nervous system health and brain function.
Get your day off to a good start with a healthy breakfast of whole grains and lean proteins. Some healthy breakfast ideas include peanut butter and banana on whole-wheat bread, low-fat cream cheese and smoked salmon on a whole-grain bagel, an egg with low-fat turkey sausage on a whole-grain English muffin, low-fat plain yogurt topped with berries and nuts and a sandwich made with turkey, low-fat cheese, lettuce and tomato on whole-wheat bread. Have a grab-and-go breakfast of low-fat cheese sticks, whole-grain crackers and red grapes, or make your own trail mix with nuts, sunflower seeds and dried fruit.
Article sources :
http://www.livestrong.com/...
http://www.livestrong.com/article/419250-3-breakfast-foods
By:
Chriss Allen
Subscribe to our Regular Email Updates!