Home » wars » Facts about the War in Afghanistan the Government Doesn't Want You to Know
Sunday, September 2, 2012
The war in Afghanistan began on October 7 2001 and heralded an opportunity to change the fortunes of millions.
10 years after the beginning of the war, the cost and sacrifices made by the 'coalition of the willing' and 'civilians of Afghanistan' is alarming.
The war has
costed billions, killed thousands of innocent civilians
and has set a path of
cyclical devastation
that Afghanistan will never recover from.
THE Government and Globalists
have lied to us all in the name of a
falsified threat
. They convinced the world that Al-Qaida was going to take over the world, that Al-Qaida was the biggest threat of the 21st century and that Al-Qaida and its leaders possessed nuclear weapons.
The war in Afghanistan has hardly achieved any of the targets set and is now a burden on the economies of the countries fighting the war.
The recent
murder of 5 Australian solders
has inspired the following compilation of facts about the war in Afghanistan that the government doesn't want you to think about.
The 5 Australian soldiers who were murdered had wives, daughters, mums and dads waiting for them to return. None of them deserved to receive that dreadful knock on the door with news that they have been killed.
Facts about the War in Afghanistan
How many Australian solders have died in the war in Afghanistan
?
Answer:
A total of 38 Australian solders have died since Australia began fighting in Afghanistan in 2002 (Source:
Wikipedia
and
Brisbane Times
) and as at 25 August 2012 a total of 236 soldiers and 2 sailors have been classified as wounded. (Source:
Department of Defence
)
How much opium and heroin is exported from Afghanistan?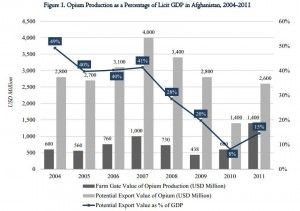 Answer:
Due to the lack of government control and other mitigating circumstances, there is no official record of how much opium and heroin is exported from Afghanistan every year. It estimated that 90% of global opium production is derived from Afghanistan (Source:
Wikipedia
)
However, there have been many LARGE seizures of opium and heroin since the war began.
1. 1,208kg of dry opium and 59kg of processed heroin was detected by Royal Air Force Reaper drones (Source:
defencemanagement.com
)
2. 4,400 pounds of hashish was seized in Kandahar (Source:
UPI
)
3. In the province of Nimroz a record-breaking 135 tonnes of poppy-seed was seized.
4. 50kg of opium was seized in the eastern province of Nangarhar (Source:
IRIN
)
How many provinces in Afghanistan grow poppy?
Answer:
In 2011 it was estimated that 17 provinces were affected by poppy cultivation (Source:
BBC
) and in 2012 the United Nation reported that 19 provinces grow poppy and 15 provinces are poppy free (Source:
Afghanistan Opium Winter Risk Assessment 2012
). At its peak, cultivation of poppy peaked at 477,000 acres in 2007 (Source:
New York Times
).
How many provinces and regions are safe for westerners to visit?
Answer:
Since the invasion of Afghanistan by the 'coalition of the willing' in 2001, there are no safe provinces of Afghanistan that are safe for tourists.
Lonely planet
,
wikitravel
and the United States Government all do not recommend visiting Afghanistan as a tourist.
In fact, the United States
Bureau of Consular Affairs most recent travel warning
(27/06/12) states "No part of Afghanistan should be considered immune from violence, and the potential exists throughout the country for hostile acts, either targeted or random, against U.S. and other Western nationals at any time. Remnants of the former Taliban regime and the Al-Qaida terrorist network, as well as other groups hostile to International Security Assistance Force (ISAF) military operations, remain active".
How much has the war in Afghanistan cost?
Answer:
At the time of publishing this article, the United States of America has spent $1,368,273,975,928.00 (Source:
Cost of War
). At the other end of the spectrum, in 2011, Australia has spent more than 7 Billion since the beginning of the war (Source:
Melbourne Age
)
How many civilians have died during the war in Afghanistan?
Answer:
Between 2006 and 2011, it was reported by the United Nations missions in Afghanistan (UNAMA) that 8,558 civilian casualties.
Other Facts About the War in Afghanistan
The Karzai regime is fraught with corruption and Afghanistan has been ranked the second most corrupt nation in the world. A study by the United Nations found that corruption accounts for nearly 25% of Afghanistan's GDP. According to Integrity Watch Afghanistan, corruption has doubled since 2007 (Source: WinWithoutWar)
Most Americans want a full withdrawal from Afghanistan. In fact, 70% of Americans polled say they want out of Afghanistan now, not at the end of 2014, even less at the end of 2024 (Source: Newsmax)
More than 75% of Australians want to exit from Afghanistan (Source: Melbourne Age)
In Afghanistan, for children under 5, there are 161 deaths for every 1,000 births (Afghanistan Ministry of Public Health, Strategic Plan 2011). In Ethiopia, its 104 deaths and in Bangladesh it's 52 deaths per 1,000 births.
Final Remarks
Afghanistan as it stands is a cesspit of lies and deceit designed to convince the masses that fighting wars based on political reason is the norm.
Every day, politicians around the world preach on the progress being made in Afghanistan and that the war effort is justified.
ALL troops and military personal must be withdrawn from Afghanistan. The families of all MURDERED solders must be told the truth about why they died in Afghanistan and
NOT ONE MORE
family should suffer the loss of a father, brother and loved one.
Source:
Globalist Report
Subscribe to our Regular Email Updates!