Home » unhealthy life » Common Soap & Cosmetic Antimicrobial Destroys Heart & Muscles
Friday, August 24, 2012
Triclosan is a pesticide used to kill microbes. It's semi-effective, but no more than ordinary soap and water. Yet, it's become ubiquitous, and at enormous cost to our health.
The marketing industry has done a brilliant job of terrifying people into fearing that they'll be infected with a nasty disease. They've served several industries quite well through the sales of antibacterial soaps, deodorants, shoes, dental products, cosmetics, medical products, and a range of other antimicrobials, including antibacterial, antiviral, and antifungal agents.
People have never been asked, though, if they're willing to trade the risk of microbes with damage to their heart. Yet, that is precisely what's happening. Triclosan is the antimicrobial chemical that's being added to a huge array of products so they can claim to be antimicrobial. Its presence in our lives has become ubiquitous.
As ever, the regulatory agencies allowed toxic triclosan to be added to literally hundreds, probably thousands, of products without any serious consideration of risks. As a result, the general public has been turned into guinea pigs. Since triclosan was first added to antibacterial soaps in the 1970s, could it be a cause of the increasing rates of heart disease?
The Triclosan Heart Study
The study's researchers exposed cells derived from human hearts to quantities of triclosan that are similar to the amounts that people use on a regular basis. They concluded that the chemical:
… weakens cardiac and skeletal muscle contractility in a manner that may negatively impact muscle health, especially in susceptible populations.[1]
Even worse, they found that the negative effects on the hearts of lab mice occurred within an hour of exposure, resulting in a 25% reduction in heart function. They also noted that the mice's gripping strength was reduced by 18% within the same period of time.
Lead author, Isaac N. Pessah, stated:
We have shown that triclosan potently impairs muscle function by interfering with signaling between two proteins that are of fundamental importance to life. Regulatory agencies should definitely be reconsidering whether it should be allowed in consumer products.
Other Toxic Effects of Triclosan
Not only is the heart damaged by triclosan, other body parts and functions are harmed. An endocrine (glandular) system disruptor, triclosan has been documented to suppress thyroid function, even at low levels. Could it be a factor in the rampant underactive thyroid pandemic we're now seeing?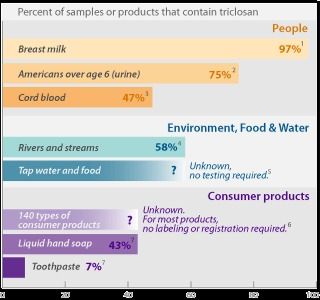 The increase in allergies, asthma, and eczema may be partly caused by triclosan. Children exposed to it at an early age have a higher incidence of these conditions.
Dioxins are known to be highly toxic. Triclosan is persistent. Because it's so massively used in so many products, many of which involve cleaning and other water-related uses, triclosan ends up in the environment. When it breaks down, it interacts to create toxic dioxins. So, it's a persistent environmental threat, causing harm both directly and later, after it's broken down to form dioxins.
Just how persistent can be seen in this graph from the Environmental Working Group's (EWG) documentation on triclosan, Pesticide in Soap, Toothpaste and Breast Milk – Is It Kid-Safe? The document was published in 2008, four years ago, so the situation can only be worse today. Notice that 97% of mother's milk is contaminated. 75% of urine samples of Americans over age 6 are contaminated.
But the EPA has no idea whether tap water and food are contaminated because they do no testing! 43% of liquid hand soap contained triclosan in 2008—and the use of antibacterial hand washes has only increased since then.
One more significant concern exists with triclosan: the development of resistant bacteria, fungus, and viruses. That is, super germs. Even the industry-friendly American Medical Association has warned:
Studies also suggest that acquired resistance to the antimicrobial agents used in consumer products may predispose bacteria to resistance against therapeutic antibiotics, but further research is needed. Considering available data and the critical nature of the antibiotic-resistance problem, it is prudent to avoid the use of antimicrobial agents in consumer products.
However, in the UK, some hospitals are now using "hand sanitizers" and asking everyone who moves from one area of a facility to another to routinely use them before continuing.
How to Avoid Triclosan
You would think that triclosan would be on the labels of products. In many cases, that's true—but not in all products! Some labels use alternative names for it. Also, there is a sister chemical that you should also avoid, triclocarban. Here, though, are the basic guidelines:
Avoid all bacterial soaps. Even if they use a chemical different from triclosan, the fact is that they add to the risk of super germs and generally are little better than regular soaps.
If a product is labeled "antibacterial", just skip it.
It's virtually impossible to avoid triclosan by focusing on types of products. It's become nearly ubiquitous. In
Pesticide in Soap, Toothpaste and Breast Milk – Is It Kid-Safe?
, the EWG has provided a guide to products that use it. Here are most of them:
Bedroom: Bedspreads, blankets, comforters, duvets, mattresses, pillows, sheets
Bathroom: Bathtubs and enclosures, rugs, mats, shower curtains, tile, shower stalls, toilet covers & seats, toilet bowls, towels
Kitchen: Countertops, tablecloths, napkins, sponges, food storage containers, tabletops, dishwashing liquid, food storage containers, cutting boards
Personal care products: Acne treatment, deodorant, antiseptics/dressings for wound care, body wash, combs & hairbrushes, diaper creams, facial cleansers/moisturizers/treatments, facial tissues, hand lotion, incontinence care, lipstick, razors, shaving gel, toothbrushes, toothpaste
Lawn & garden: Garden hose (hosepipe), mulch
Clothing: Aprons, athletic wear, baby bibs, boots & shoes, caps, clothing linings & trims, coats, dresses, socks, hosiery, intimate clothing, raincoats, running gear, shoes & liners, pajamas, sweatshirts, t-shirts, uniforms, wet suits
Sports, parks, & recreation: Auto interiors, boating equipment, convertible tops, exercise & gym equipment, playground equipment, playing cards, portable toilets, swimming pool liners, tents, toys, whirlpools
Home furnishings & materials: Air filters, awnings, cloths, curtains, furniture fabrics, foam cushions, handles & knobs, HVAC coils, tarpaulins, wall coverings
Cleaning products: Brooms, brushes, buckets, carpet shampoos, cleaning fluids, fabric softeners, waxes/sealers/emulsions, garbage bags/bin liners, garbage bins, laundry detergents, mops, vacuum bags, vacuum cleaners
Floor coverings: Door & floor mats, rugs & carpets
Storage containers: Blanket bags, garment bags, tray liners
Other home products: Electronics storage containers, humidifiers, instrument cases, pet bedding, pet shampoo, pet training pads, phones
Your wallet: Credit cards, currency (paper only), driving licenses, personnel cards
Miscellaneous: Cubicle curtains, food distribution carts/trays, menu materials
Medical: Bed pans, medical devices, medical/dental trays, medical cart wheels, x-ray holders
Construction & consumer products: Adhesives, caulk, cellulosic materal, coatings, concrete, fabric, films, floor drains, flooring (concrete, plastic, & coverings), grease traps, hosing, ink, insulation, paint, paper & paperboard, paper mulch, plastic, plumbing, polythene, polypropylene, polyurethane, rope, rubber, sealants, slurries, styrene, synthetic polymer, textiles, vinyl
Stunning, isn't it? The stuff is everywhere!
Be aware of alternative terms for triclosan. The term Microban® hides triclosan, and it's often seen in toys. In clothing and other fabric-based product, you'll see the term Biofresh®.
In general, you should avoid routine products that claim to be antibacterial, antifungal, or antiviral. The odds are that they'll contain triclosan, and if they don't, they likely contain another equally devastating chemical.
Triclosan: A Pesticide
Keep in mind that triclosan is a pesticide. It is, by definition, a poison. No poisons should be used casually and on a massive scale, the way this one is. It's well past time to tell our regulators that we want the precautionary principle enacted before any of these poisonous products are thrust onto the market.
One of the study's authors, Nipavan Chiamvimonvat , UC Davis professor of cardiovascular medicine, stated:
The effects of triclosan on cardiac function were really dramatic. Although triclosan is not regulated as a drug, this compound acts like a potent cardiac depressant in our models.
Pharmaceutical drugs are poisons, ones that carry an effect, usually among many, considered beneficial by either destroying microbes or countering the action of the body in some manner. In that sense, triclosan could be treated as a drug. Clearly, it should never have been placed on the general market. If there's a need to depress the heart's function, then perhaps triclosan could find a legitimate use there. However, triclosan is so widely used that it's having a depressant effect on the hearts of nearly everyone!
There may be a place for triclosan, but it most assuredly isn't in our daily-use products, products that we provide to our children thinking we're keeping them safe, or products we use on the most fragile among us for the same reason. Triclosan has been foisted on us without applying the precautionary principle—and the results are devastating both us and the environment.
Source:
gaia-health
Subscribe to our Regular Email Updates!